Research and Development Initiatives
Faculty Awareness Programs to enrich them on various Program / Scheme Mandates of funding agencies of Government of India.
Development for Furtherancing the Pedagogical skills, Research Skills and Industry Institute partnership activities.
Augmenting programs towards developing Frugal products of social relevance of the region.
Continually upgrading the Skill Matrix of Faculty to meet the Consultancy requirements of the locality.
Collaborating and MoU's with Industry for Faculty members, Corporate Training and Consultancy, Technology transfer & Impact Assessment.
Inducing "Innovations & Product Development Culture" amongst Learning Trajectories of Curriculum Frame work.
Developing the Facilities & Resources in the Institution to conduct Train The Trainer (T3) programs.
R & D Achievements
Recognized as Scientific & Industrial Research Organization (SIRO) by DSIR, Government of India. (SIRO Recognition Letter)
ARIIA Rankings. (Recognition Letter)
Significant Increase in Sponsored Research Grants. (Increase of 7.52 Crore in preceding 5 Years)
Considerable increase in Patent Claims. (23 Patents during preceding 2 Years)
Significant development of Innovative Frugal products. (56 Product Developed in preceding 3 years)
Sizable increase in Igniting the Young Minds to be the beneficiaries of MSME Idea Hackathon and NIDHI PRAYAS schemes of Government of India. (56 Beneficiaries in preceding 3 years)
Establishment of PRAYASEE SHALA / FABRICATION LAB out of NIDHI PRAYAS scheme of Government of India. ( 1.00 Crore)
Establishment of Soil Structure Interaction Lab ( 1.28 Crore) out of Sponsored Grants from Ministry of Science & Technology, GoI.
Establishment of Laboratory out of sponsored Research Grants to augment Learning Innovations Approach (6 such Laboratories are established in preceding 3 years).
Major R & D Projects in Pipeline
Establishment of 'Centre of Excellence' on 'Habitat Sustenance Practices' with an outlay of 148.52 Crores.
Establishment State-of-art IoT Laboratory ( 1.00 Crore)
Establishment of 32 channel Weather Station under SCADA Environment.
Financial Outlay of Sponsored Projects
No. of Ongoing Research Projects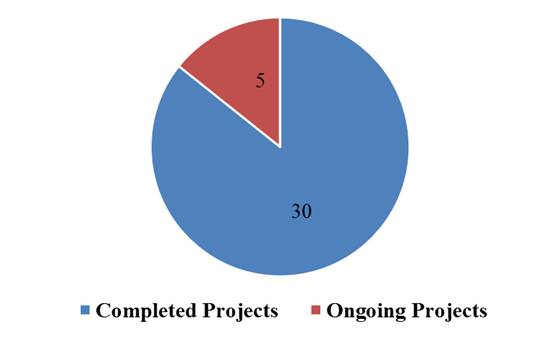 Total: - Rs.60.00 Lakhs
No. of Completed Research Projects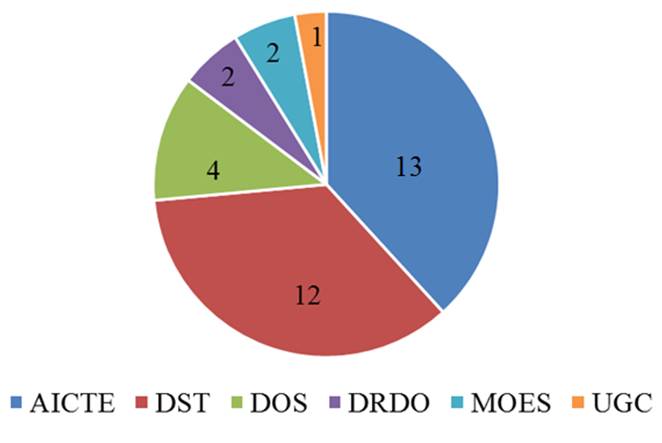 Total: - Rs.2451.03 Lakhs