Department of Chemical Engineering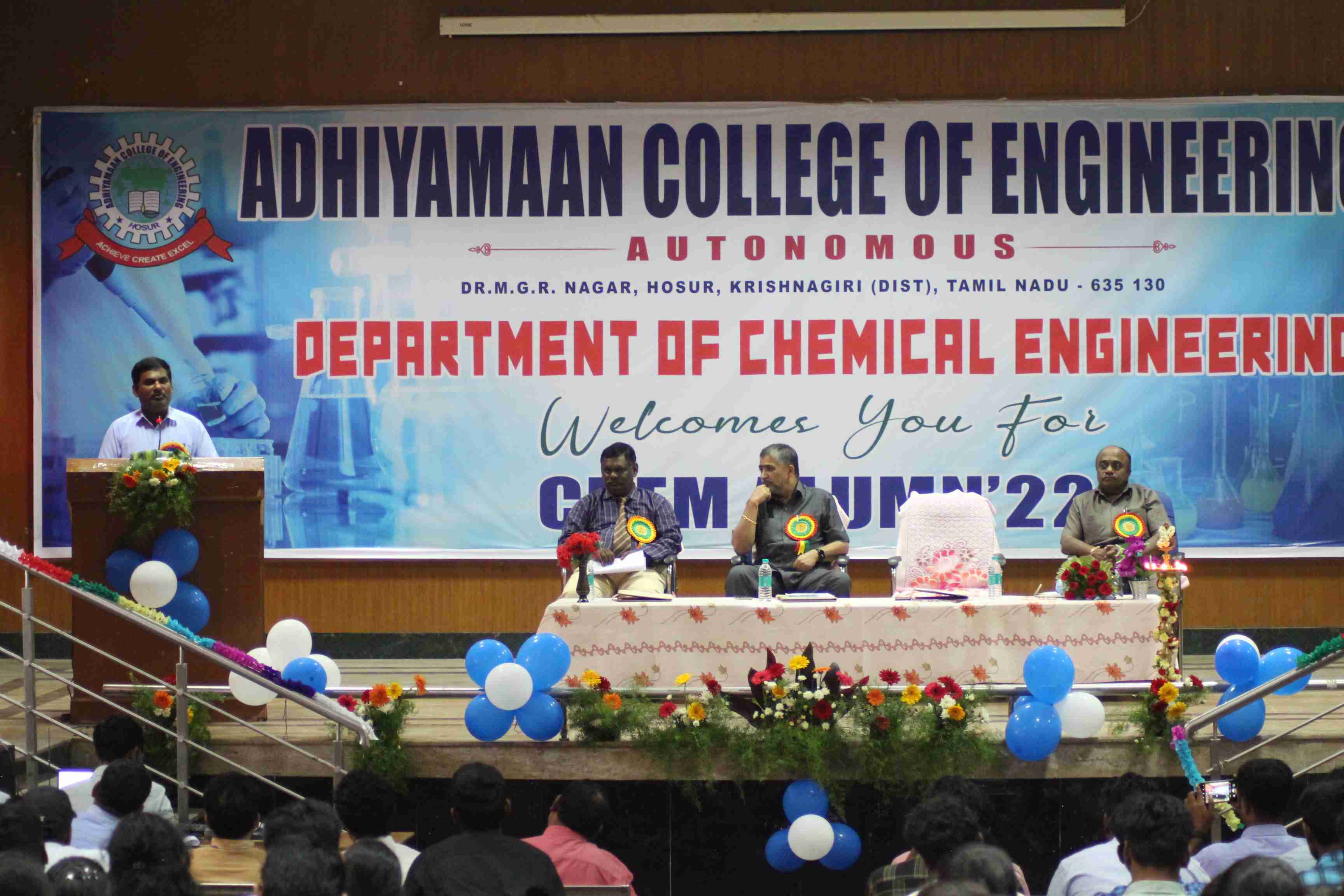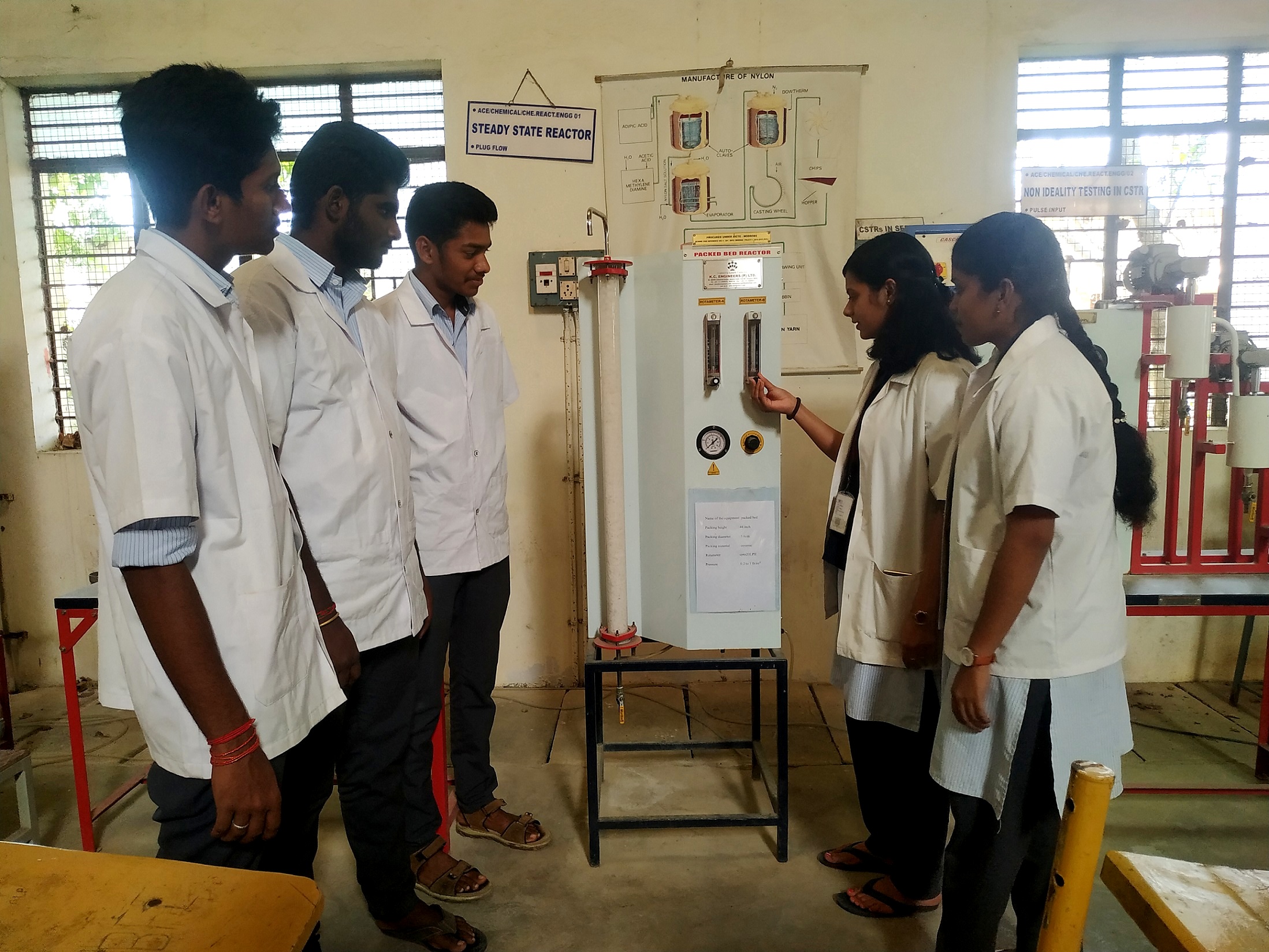 About Us
The Department of Chemical Engineering was established in the year 1993 to offer undergraduate program, B.Tech. Chemical Engineering. Since then the department has gained recognition and prominence as the most sought option for admission into Undergraduate Program in Chemical Engineering. The department has well versed laboratories give learning a practical dimension and highly energetic and enthusiastic staff with academic and research pursuit. The department is accredited by National Board of Accreditation (NBA), New Delhi from the year 2004 onwards.
The graduated chemical engineers have many career options to choose – like placement in MNCs, industry, teaching, research or an admission into PG courses like M.Tech, M.S or MBA in India or countries like USA, U.K, Germany and Australia. In addition to traditional careers in the chemical, energy and oil industries, chemical engineers enjoy increasing opportunities in biotechnology, pharmaceuticals, electronic device fabrication and environmental engineering. A few of our graduates turn as entrepreneurs. The department continues to upgrade chemical engineering syllabus structure, experiments and infrastructure to keep abreast with latest developments in chemical engineering and allied fields.
The department received grants from central institutions for modernizing the laboratories. Apart from regular class work, the students regularly update and develop through various co-curricular activities organized in the department like seminars, conferences, workshops, industrial visits, summer internship training and invited talks by eminent personality like successful alumni, scientists and industrialists. National level conference and workshops are organized in association with student chapters of Indian Institute of Chemical Engineers (IIChE), Institution of Engineers IE(I) and Indian Society for Technical Education (ISTE) every year to enrich the knowledge of students beyond curriculum.
The department has evolved significantly over the last three decades, reflecting changes in the Indian chemical industry and the chemical engineering profession worldwide.
Achievements
2022
Our student Ashwin bagged first place and won Cash award of 1 lakh for his project "Converting Municipal Plastic Waste to Construction Bricks and Alternative Fuel (Coal) For Thermal Power Plants in TamilNadu" from Entrepreneurship Development and Innovation Institute, Government of TamilNadu.
2021
Our student Gowrishankar bagged first place and won Cash award of 1 lakh for his invention MOISTREE from Entrepreneurship Development and Innovation Institute, Government of TamilNadu.
2020
Project grant received by Mr.Kabileeswaran, S. Muthupandi, T.Nandhakumar, R.Arun under Student Project Scheme from TamilNadu State Council for Science and Technology- DOTE, Chennai.
2019
Project grant received by students Antony Divine Raj, A Asvinth, V Dinesh, R Kavin Kishore under IIChE Project Grant from Indian Institute of Chemical Engineers –Bangalore Regional Centre.
THRUST AREA OF RESEARCH
Process Equipment Design
Biochemical Engineering
Separation Processes
Environmental & Energy Engineering
Material Science & Engineering
Modelling, Simulation & Optimization
Petroleum & Petrochemicals
Polymer Science & Engineering
Process Control & Dynamics
Computational Fluid Dynamics
Fuel cell Technology
Pharmaceutical Technology
Industrial safety
INDUSTRIAL TIE-UPS
The department has alliance (MoUs) with leading industries/institution to enhance the knowledge of the students and the Faculties.
Global calcium Private limited, Sipcot, Hosur for Internships /Projects and Placement
Envirowisers solutions private limited, Bengaluru, for Internships /Projects and Placement
Supreme water works, Bengaluru for Internships /Projects and Placement
STUDENTS EXCHANGE
The Department of Chemical Engineering has encouraged students to involve in internship/industrial training/ industrial visits to stimulate their perception in various chemical and allied fields.
CLRI, Chennai
Indira Gandhi Centre For Atomic Research
TVS Sundaram Fasteners Limited
SPIC
DCW limited
Global Calcium Pvt Limited
Mysore Milk Union
Karnataka Soaps and Detergents Limited
The Ramco Cements Limited
JSW Steel Limited
Micro Labs Limited
Tamil Nadu Newsprint and Paper Limited
BPCL
Gail(India),Karaikal
The Vellore Co-Op Sugar Mills Limited
Mettur Thermal Power Plant Station – I
The Fertilizers And Chemicals Travancore Limited
Carborundum Universal Limited
The Travancore Cochin Chemicals Limited
Chemin Enviro Systems Private Limited
Thirumalai Chemicals Limited
Unilink Pharma Pvt. Limited
Kansai Nerolac Paints Limited
Department Information and Details
Approved Intake
23-24
22-23
21-22
20-21
19-20
60
60
60
60
120
Fees charged ( per annum ) in Rs.
As per Tamil Nadu Government Norms
Pass Percentage during Last Five Years
22-23
21-22
20-21
19-20
18-19
100
100
97
71
94
Teacher Student Ratio
1:15
No. of Faculty Members
Cadre
Number
Professor
2
Associate Professor
1
Assistant Professor
13
Faculty Profile
Qualification
No. of Faculty
Ph.D
4
Ph.D Pursuing
1
Post Graduate
11
Undergraduate
Nil
Experience Faculty
Experience
No.of Faculty
Less than 5 Years
8
5 to 10 Years
4
More than 10 Years
4
Budget Allocation for the Programme ( in Rs.)
Recurring
Non-Recurring
68,74,936.00 /-
20,46,010.00/-
New Initiatives and Future Vision
To promote learning and innovation that integrates engineering and life sciences for the advancement of human health.
Industrial Consultancy, Research and Development (During the past 5 years)
| | |
| --- | --- |
| No. of sponsored research projects in progress | Nil |
| No. of papers published in International Journals | 17 |
| No. of papers published in National Journals | -- |
| No. of papers presented in International Conferences/Seminars | 12 |
| No. of papers presented in National Conferences/Seminars | 20 |
| No. of National Conferences Conducted | 3 |
| No. of training Programmes/Short Term Courses Conducted | 8 |