Department of Information Technology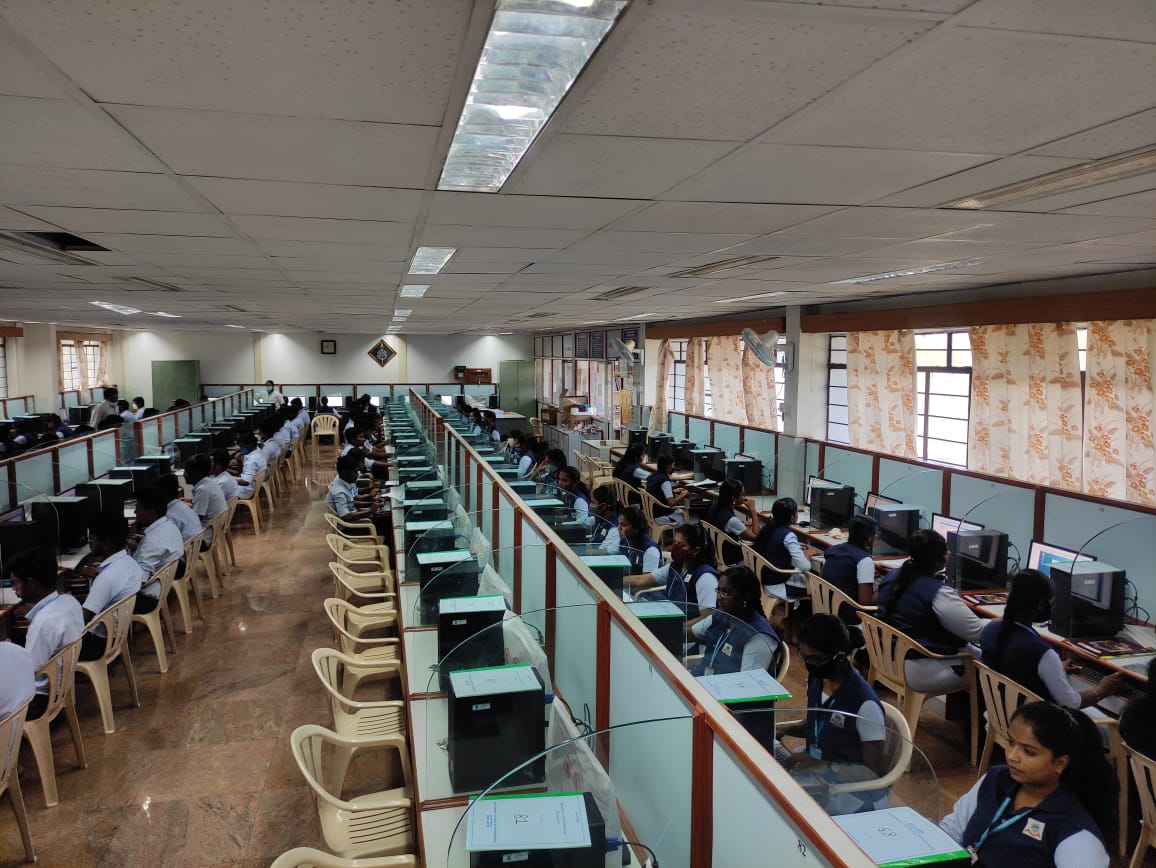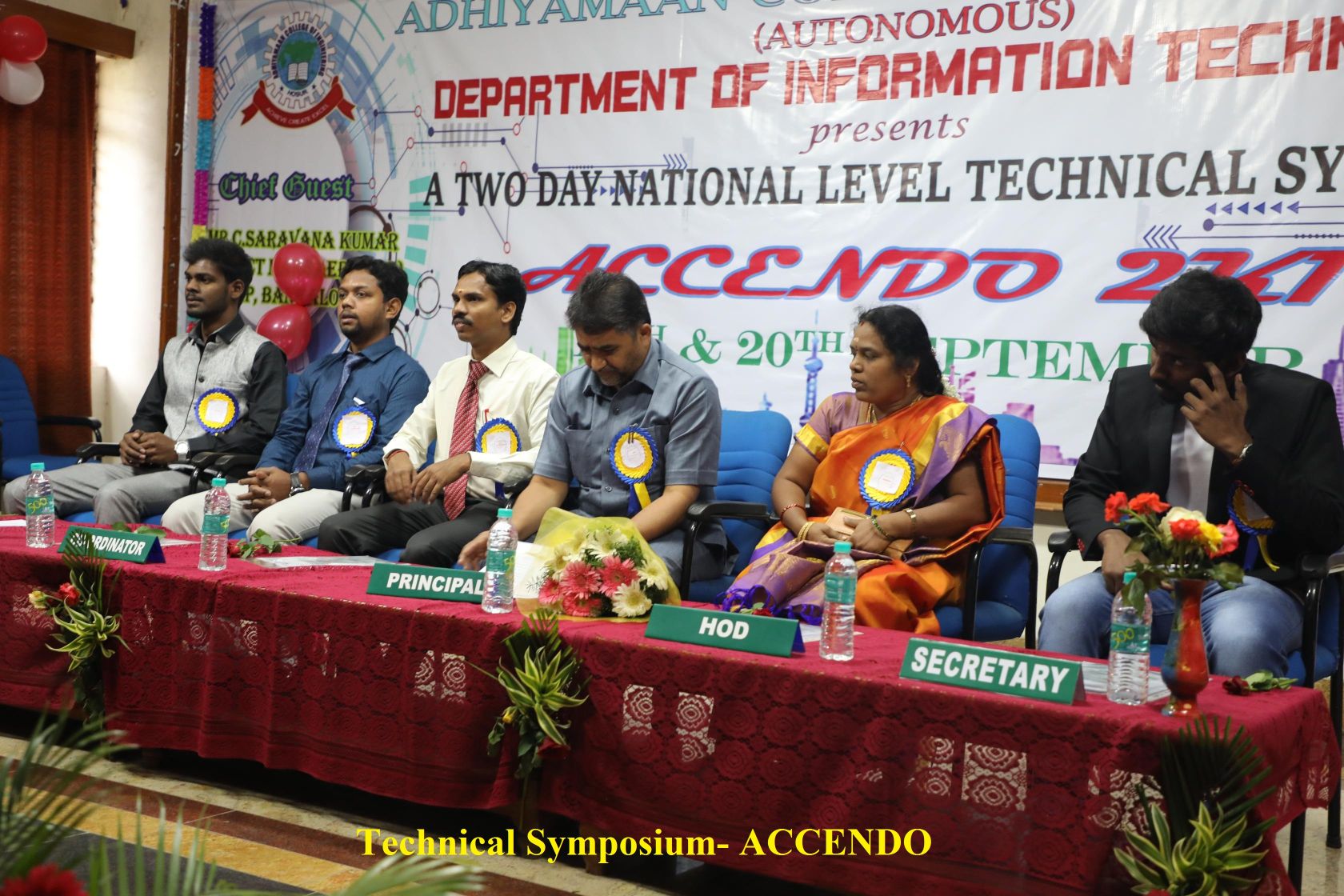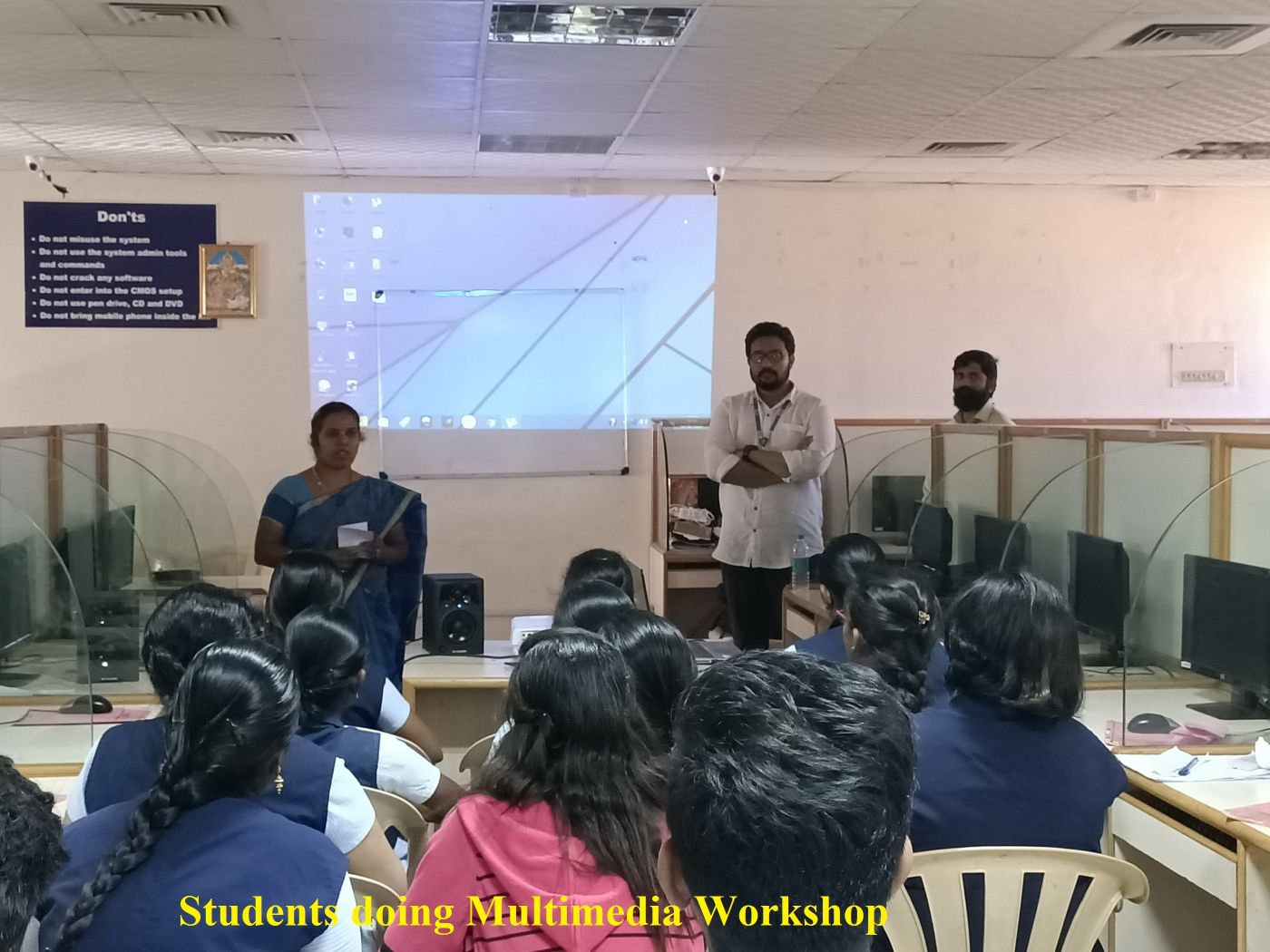 About Us
The Department of Information Technology has been an active and effective part of Adhiyamaan Educational Research Institutions (AERI) for more than a decade. Right from its inception of the year 2001 , the department has been offering well - built infrastructural facilities with different computer platforms for grooming professional students to meet the incessant demands of the IT Industries. The Department strives to produce eminent professional tuned to the real time working environment. The department has vibrant and dynamic community of faculty and students and their varied achievements has made the department one of the best in the campus. The faculty team takes creative and committed measures to bring passion, enthusiasm to create quality professionals.The department provides best infrastructure and educational resources for students to help in self learning and practice.

The curriculum is well defined to cater to the needs of both society and industry. The learner during their four-year under graduate course would gain a comprehensive and extensive understanding of the various nuances of Information Technology. Apart from curriculum, various programmes are organized to deepen the students' understanding of various IT relevant concepts, and also courses aimed at kindling the students' independent thinking and creativity in relevance with the discipline. The Students are closely assisted by the faculty in every step of this intellectual journey.

The Department has faculty members specialized in Wireless Networks, Data mining, Soft Computing, Network Security, Cyber Security,Big Data Analytics, Image Processing, Cloud Computing and Mobile Computing.The Department takes pride in the large number of faculty engaged in research activities of diverse specializations that focus on socially relevant issues.

The Department is committed to build young professionals with a strong sense of intellectual curiosity, leadership skills, ethics and integrity, as they enter the workforce.The Department conducts a continuous and rigorous placement development programme that shapes every learner to be an employable and industry ready individual at the end of four years. At present the department holds a phenomenal placement record of more than 80%.

Best Practices
Outcome Based Education (OBE) and Rigorous learner-centric teaching helped in improving the evaluation of teaching learning process.
Classroom teaching is based on a lesson plan formulated at the beginning of a semester.
Teaching as per lesson plan interspersed with three assessment exams helps to continuously monitor learning outcomes
Computer assisted E learning is practiced for teaching, which enables to cover the syllabus in time, the virtual models can be demonstrated and animations of processes which are difficult to explain with blackboard and chalk.
Assignments on current trends for learning of latest techniques and effective understanding of theory are given to the students
Seminars/Webinars in content beyond syllabus & Hands on experience workshops are conducted
Students are encouraged to undergo in-plant training and internships during their semester vacations.
Personality development training programs are conducted in third and final year so as to equip them for placement.
Guidance is given for competitive exams such as GATE, GRE, etc.
Consistent mentoring of the students and tracking slow learners and involving in parents' meetings
Value added courses/frequent guest lectures/invited talks by the practitioners are arranged to give more exposure on real time challenges and industrial practices.
Salient Features
Dedicated and well-qualified faculty.
Spacious class rooms with projector.
Well Equipped Laboratories with the state of art IT infrastructure
Air-conditioned seminar hall and library.
1000 Mbps lease line internet connectivity
Tutor -ward system for regular interaction with students to address their difficulties
Students are encouraged to participate in activities like paper presentation, technical quiz, software debugging, sports, NSS and cultural activities.
Faculty educate the interested students for various certification exams like, NPTEL online courses, Infosys Campus Connect programs, GATE coaching etc.
Department Information and Details
Approved Intake
23-24
22-23
21-22
20-21
19-20
60
60
60
60
60
Fees charged ( per annum ) in Rs.
As per Tamil Nadu Government Norms
Pass Percentage during Last Five Years
22-23
21-22
20-21
19-20
18-19
98
100
99
99
97
Teacher Student Ratio
1:15
No. of Faculty Members
Cadre
Number
Professor
1
Associate Professor
Nil
Assistant Professor
11
Faculty Profile
Qualification
No. of Faculty
Ph.D
1
Ph.D Pursuing
2
Post Graduate
9
Undergraduate
Nil
Experience Faculty
Experience
No.of Faculty
Less than 5 Years
7
5 to 10 Years
3
More than 10 Years
2
Budget Allocation for the Programme ( in Rs.)
Recurring
Non-Recurring
50,40,000.00 /-
11,00,000.00/-
Industrial Consultancy, Research and Development (During the past 5 years)
| | |
| --- | --- |
| No. of sponsored research projects in progress | Nil |
| No. of papers published in International Journals | 90 |
| No. of papers published in National Journals | 10 |
| No. of papers presented in International Conferences/Seminars | 2 |
| No. of papers presented in National Conferences/Seminars | 23 |
| No. of National Conferences Conducted | Nil |
| No. of training Programmes/Short Term Courses Conducted | 35 |