Indian Society for Technical Education
About us
The Indian Society for Technical Education (ISTE) is the leading National Professional non-profit making Society for the Technical Education System in our country with the motto of Career Development of Teachers and Personality Development of Students and overall development of our Technical Education System.  Being the only national organisation of educators in the field of Engineering and Technology, ISTE effectively contributes in various missions of the Union Government. The strength of ISTE is the strong base it has in technical education institutions in the country.
It organizes an annual convention for faculty and students separately every year where a large number of technocrats, technical teachers, policy makers, experts from the industry etc. participate and interact. Every year a National Seminar with a specific theme with respect to the latest development in the field of Science and Technology and societal problems is being arranged during the Annual convention and leading luminaries of technical education are invited to deliver special lectures and delegates will present research papers. ISTE is actively involved in many activities conducted by All India Council for Technical Education New Delhi (AICTE) and National Board of Accreditation New Delhi (NBA).
ISTE is having collaboration and MoUs with government originations and various Universities for the promotion of technical education system in the country.
Our Mission
Formulate the General Goals & Responsibility of Technical Education.
To Enhance Professional Ideas & Standards.
To Adjust Curriculum & Educational Processes to change conditions.
To Assist and Contribute in the production and development of top quality Professional Engineers and Technicians needed by the Industry and other Organizations.
To providing quality training programmes to teachers and administrators of technical institutions to update their knowledge and skills in their fields of activity.
To providing guidance and training to students to develop better learning skills and personality.
Events Organized
International Women's Day Celebration'23
We ISTE Students Forum have planned to conduct a memorable event with the Collaboration of Women Empowerment Cell (WEC).
Welcome to an event dedicated to celebrating and empowering women. Join us for a day of inspiring talks, technical events, and networking opportunities with some of the most influential women in our Community. Together, we will explore the challenges and successes of female leadership and create a platform for meaningful dialogue and collaboration. Let's come together to celebrate the power of women and create a brighter future for all.
Date:  27th & 28th February 2023
---
X-Stream'23
Welcome to X-Stream'23, the premier college event of the year! Join us for a day of fun, learning, and networking with students from across our community, Enjoy the exciting activities. Make sure to take advantage of all the opportunities that ISTE Forum's X-Stream'23 has to offer and make lasting memories with your peers.
Date: 21thFebruary2023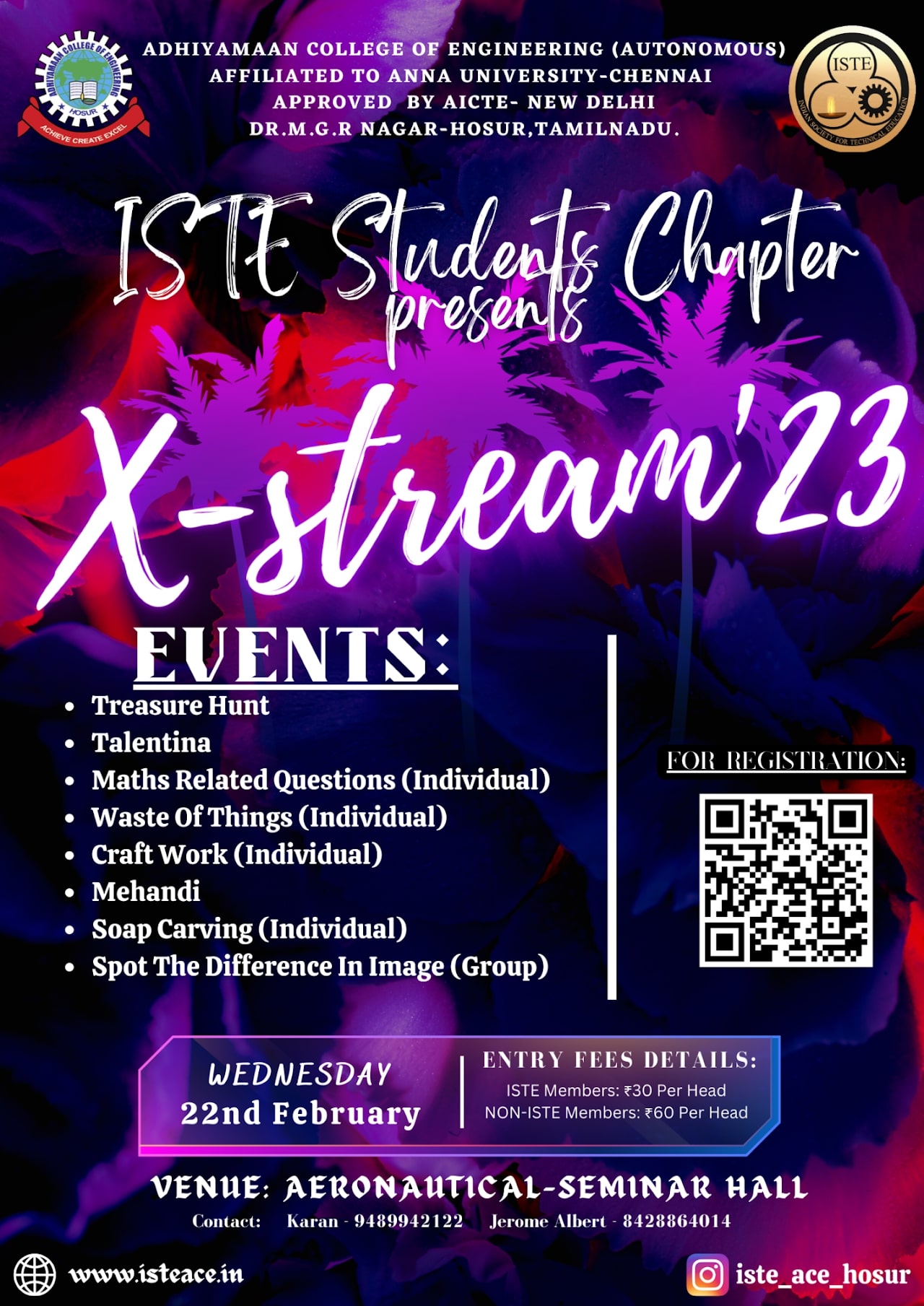 ---
International Webinar PLC
Welcome to ISTE Forum, our Webinar on the Fundamentals of Programmable Logic Controllers, or PLCs. In this Webinar, we'll be exploring the basics of PLCs, including their history, functionality, and applications.
Our speaker for this Webinar is Mr.Irudayasamy Lawrence, who has extensive experience in the field of industrial automation and control systems in Qatar, Middle East. With a background in Electrical and Electronics Engineering, Mr.Irudayasamy has worked on numerous projects involving PLCs and other Industrial Control Systems.
Date:24th September 2022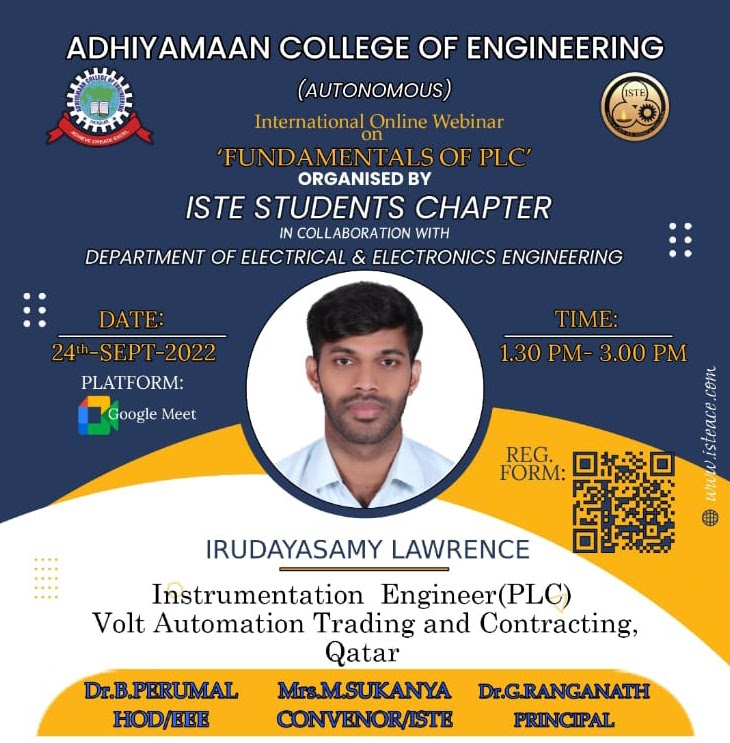 ---